Company profile
The KANSAI Electric Power Co.,Inc・・・56%
Nuclear Fuel Industries,Ltd・・・ 44%
264(at the end of March 2021)
Standing Corporate Auditor
Corporate Auditor(Part-time)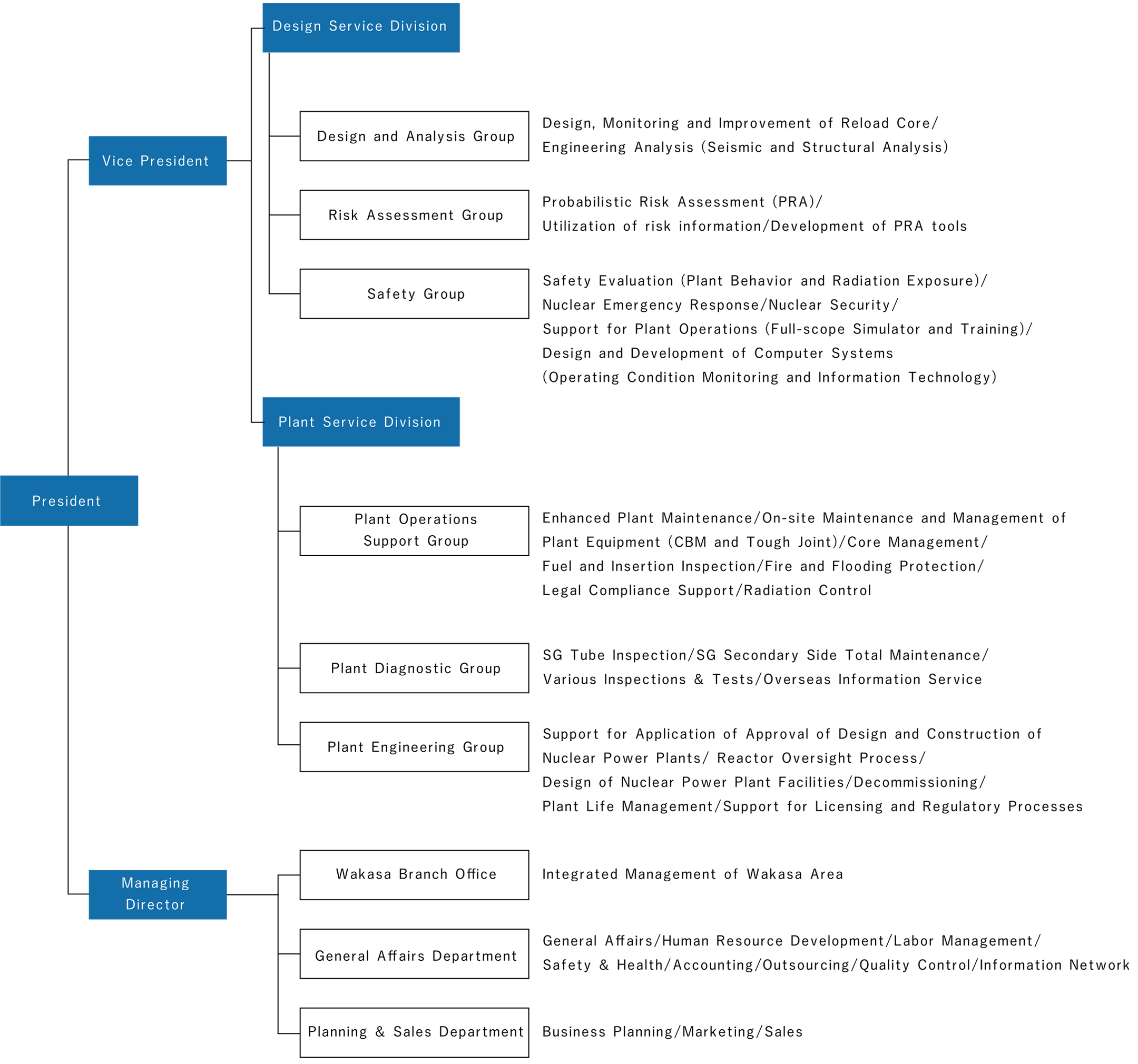 Business establishment
introduction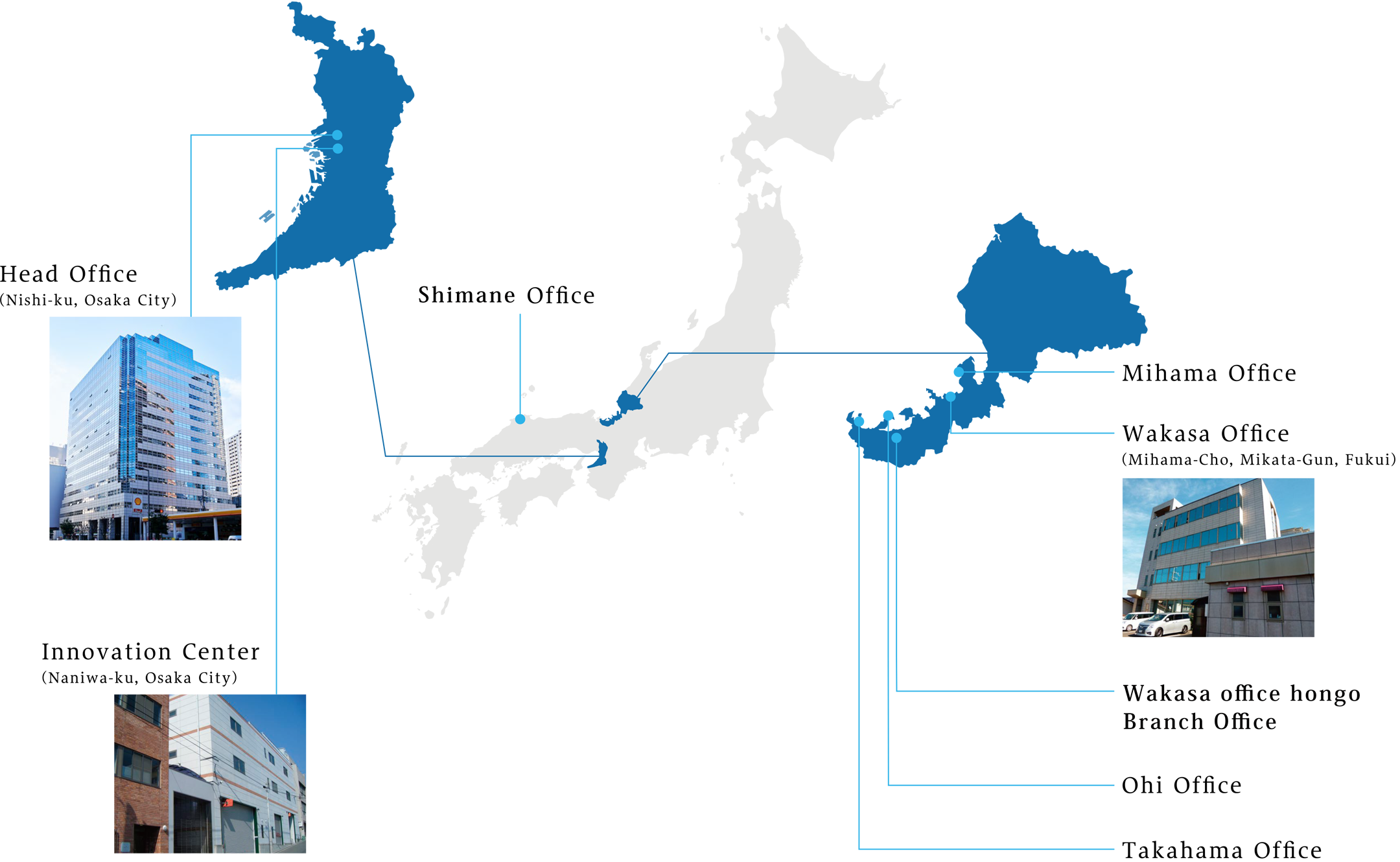 Corporate philosophy
We will make contributions to the society through outstanding technologies and innovation in the energy supply field.
Management Policies
①

Aiming at providing consistent and comprehensive engineering services from construction to decommissioning of nuclear power plants.

②

Aiming at maintenance and improvement of the world-level excellent techniques by exploiting and utilizing overseas technologies and promoting R&D.

③

Making a consistent effort to continuously improve the quality management system to enhance customer satisfaction.

④

Making the most of quality and the talents of individual employees while encouraging self-enlightenment.

⑤

Complying with laws and internal rules to maintain advanced corporate ethics and build reliable corporate culture.

⑥

Assuring appropriate profits and strengthening the financial base for permanent development.
History
1985
Established by Nuclear Fuel Industries, Inc. and then Japan Information Services, Co., Ltd. (The Japan Research Institute, Ltd.).
Started business operations mainly in the fields of fuel/core-related services, domestic/overseas information services and development of analysis tools and software.
1989
Kansai Electric Power Company participated in capital investment.
Established Wakasa Office and started routine core management work.
1991
Entered into full-scale operations of design of reload core and core physics test.
1992
Delivered Operating Condition Monitoring System (OPMS).
1993
Started integrated management of reload core design.
1994
Commenced services for periodic inspection of steam generator tubes.
1997
Commenced services of fuel/non-fuel bearing components inspection.
1998
Entered into technical cooperation agreement with Westinghouse.
Started development of probabilistic risk assessment models.
2000
Commenced operation of Radioactive Waste Management System.
Commenced full-scale support for ageing management technical evaluation for aged plants.
2001
Acquired permission for the designated constructor (installation of mechanical devices).
2002
Acquired ISO9001 qualification.
Acquired qualification of Tough Joint resin application technique from JAPEIC and started application of Tough Joint for prevention of leakage.
2003
Acquired qualification of X-probe for SG tube inspection from JAPEIC.
2004
Acquired qualification of RVH nozzle inspection technique from JAPEIC and implemented inspection (~2007).
2005
Implemented reactor vessel in-service inspection (~2006).
Commenced support services for secondary system piping wall thickness management.
Stocks were shared between Kansai Electric Power Co. Inc. and Nuclear Fuel Industries, Inc.
2006
Delivered full-scope simulators for operator training.
Delivered on-line core monitoring system (GARDEL).
2007
Commenced advanced plant maintenance work.
Developed unique smart array probes for SG tube inspection and manufactured probes at a domestic shop.
Renewed memorandum for technical cooperation with Westinghouse.
2008
Acquired general construction license (piping work and telecommunications work).
Began selling of risk monitoring system (COSMOS).
Introduced advanced flaw detection system for SG tube inspection.
2009
Established Innovative Center as the base of R&D.
Started contract work for operator's inspection on welding.
2010
Entered into technical cooperation agreement with Tecnatom, Spain.
2012
Delivered multi-physics reactor simulators for universities.
2013
Commenced full-scale support service for nuclear operators to meet new regulatory requirements (Support for application of approval of design and construction of nuclear power plants, seismic analysis, structural analysis, licensing PRA, safety improvement review, fire and flooding maintenance management, etc.)
2015
Began selling of simulator for educational purpose (GRAPE).
2016
Donated simplified reactor simulator for educational purpose to the IAEA.
2017
Dispatched our resident researcher to EPRI (North Carolina, the United States).
2020
Applied SG secondary system cleaning technique (ASCA).
Acquired ISO qualification.
Nuclear Engineering Limited has acquired ISO9001.
Qualification "ISO9001" granted by International Organization for Standardization
Registered Divisions
All business divisions
Location of headquarters
〒550-0001
1-3-7 Tosabori, Nishi-ku, Osaka-city
Contact
Quality Management, General Affairs Department
Date of ISO registration
May 10, 2002
Organization for accreditation
LRQA Limited
Scope of registration
Investigation, design & development, test & inspection, analysis,
assessment, project planning, installation and maintenance for
nuclear and other affiliated facilities
Certificate for qualification
Corporate Social Responsibility(CSR)Charter
We are committed to the fulfillment of corporate social responsibility through all the aspects of our business activities conducted under the principles below :
Kansai Electric Power
Group Code of Conduct
Go to the external site